2.2.1 Input Formats
Graphics Converter Pro supports more than 500 image formats import, including JPG, PDF, PNG, BMP, EMF, GIF, JPEG2000, TIF, ICB, ICO, PBM, PCD, PCX, PGM, PPM, PSD, PSP, RLE, SGI, TGA, VDA, VST, WBMP, WMF... (See 5.0 500 Formats List)


Ways to open Input Setting dialog box:
1. Start from main menu and choose Tools > Input Settings.
2. Click Settings Tab item in the upper left corner and then click Input Setting label in the lower left corner.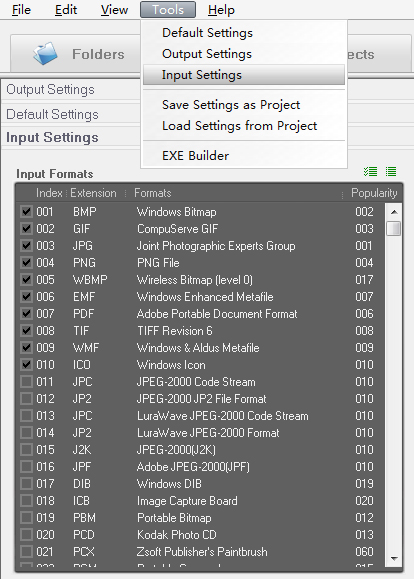 When the Input Setting dialog box is open, you can choose the formats which you want to input. As a default, Graphics Converter Pro lists and selects all the supported formats.


What needs your special attention is: The unselected formats won't be previewed in the Details Mode and also be ignored when conversion is processed.